Green spaces data surveys on handheld
GINVE.PALM is an application dedicated to palmtops with OS Windows® Mobile and Windows® Embedded purposefully studied to rapidly run geo-referenced surveys of green and urban furniture. Not only can GINVE.PALM be used in surveys but also in updating the census of the current green and allowing the change of position and sheets of each element directly on field.
GINVE.PALM application works also offline - maps are exported from GINVE.SDO through a very simple procedure - at the end of the activity it is possible to manage the importation of updated data by launching the synchronizing procedure from GINVE.SDO.
The simple use and the highly intuitive user interface make GINVE.PALM and all GINVE products suitable to anyone, allowing technicians and green operators to rely on practical and functional tools to a correct managing of the urban green.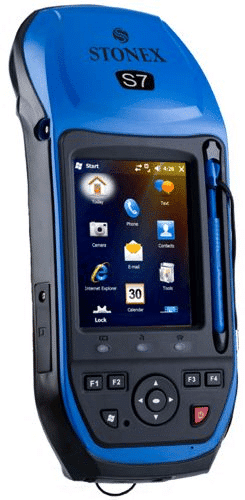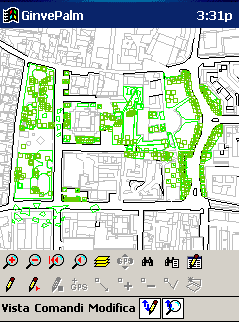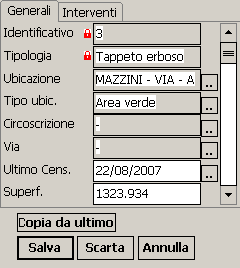 What you can do with GINVE.PALM
GINVE.PALM is the perfect device to make surveys and update green and urban furniture right on the field.
Thanks to GINVE.PALM a tree or a play equipment can be entered in the visualized map in few seconds. Elements can be entered manually or automatically through the GPS. Once the position of the object is established, GINVE.PALM offers the operator the first id available, and the tracking board can be filled immediately.
To support the operator's activity, specific functions such as "Copy from last" are available. The latter function enables to fill in the data of the open board with a simple click, copying the info from the last element entered.
Thanks to an easy and immediate interface, GINVE.PALM has been purposefully created to facilitate operators during the tracking activities of urban green and data updates. Carrying out the census of green- the management of tracking boards, interventions, surveys, and treatments – has become a very fast, easy, and intuitive task.
Furthermore GINVE.PALM can be used to plan maintenance activities on green and urban furniture, specifying the type of intervention, the quantity, the start, and end date.
GINVE.PALM - How it works
GINVE.PALM collects data exported from GINVE.SHP to ensure activities of viewing, changing, and updating directly on the field and offline. Data can be saved in the built-in memory or in the external one.
Geo-referenced data can be visualized and questioned directly on map, and thanks to the dedicated button it is possible to modify the information grouped in boards, the position of the elements and even the graphics of the polygonal elements.
Once the activity is concluded, it suffices to connect the palm to the computer to import and synchronize data in GINVE.SHP with the help of a guided procedure.