GINVE.TAB is a WebApp supplemented by GINVE.CLOUD and purposedly created for mobile devices. The tablet helps operators to take census, update and manage green and urban furniture directly on field.
GINVE.TAB offers the users a highly intuitive interface and several functions that will considerably simplify procedures related to data entering and updating and enables to feedback in real time all activities carried out on maintenance.
GINVE.TAB is included in GINVE.CLOUD with no additional cost of use or assistance.
GINVE.TAB deploys all functionalities required by the 10/2013 law (Dispositions on urban green areas) and by new CAM 2020 (dm. March 10th, 2020)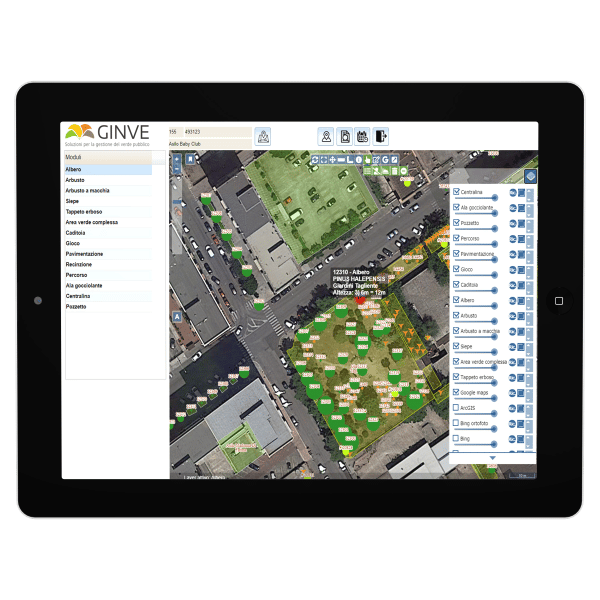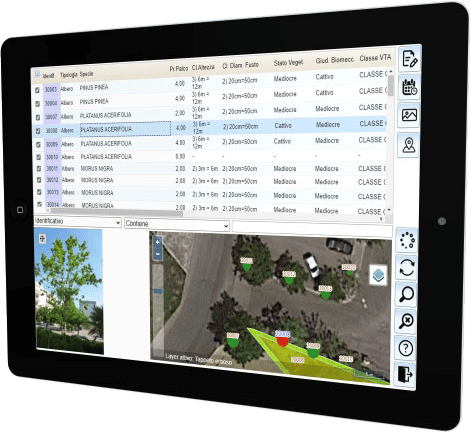 What you can do with GINVE.TAB
GINVE.TAB keeps the urban green's census constantly updated both by entering new geo referential elements and updating existing surveying boards (dimensional, surveys, photography, etc.). GINVE.TAB is able to show the list of interventions already scheduled for each site, and let the operator cross off and close the interventions already performed in a single step.
GINVE.TAB's multiple research filters can be used on interventions planned to get information only on specific elements or element with certain features. It is also possible to plan new single or multiple interventions in few seconds.
GINVE.TAB works with a regular Internet browser (Google Chrome, Microsoft Edge, Firefox e Safari) and an internet connection. No additional software installation is required.
The interface is highly intuitive. Once the site has been chosen from a list or through GPS, the typology of elements to manage must be selected; in case of a tree, for example, it is possible to visualize the list of trees available in a specific site or the list of interventions scheduled.
GINVE.TAB deploys the same browser as GINVE.CLOUD and foresees the use of multiple filters on data.
With a simple click on the element of the map, it is possible to view the tracking board with all info grouped in TAB (Generals, Damages, Interferences….) to ease reading and comprehension.
The device's camera can take one or more pictures and can arrange a photo gallery for each element and possibly file every picture by area (crown, collar, stem, foliage). At the same time, it is also possible to link more documents to each element and visualize them at any time both in GINVE.TAB and GINVE.CLOUD.
GINVE.TAB carries out multiple plan of new interventions and multiple closure of possible interventions already performed. In both cases, one or more research filters can be activated and later one decides whether or not to activate the checkbox to add or remove the element from the plan or the multiple closure.
GINVE.TAB and GINVE.CLOUD share the same graphic and alpha-numeric database thus allowing the entering and visualization of data updated in real time by both platforms.